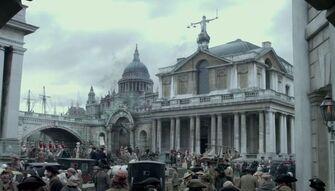 London is the capital city of the United Kingdom. Many English men and women were raised here in this English town. Of all London's inhabitants, the King is the most notable, who during his reign resides in St James' Palace.
High spots
Edit
Old Bailey
St. James' Palace
The Tower of London

Ad blocker interference detected!
Wikia is a free-to-use site that makes money from advertising. We have a modified experience for viewers using ad blockers

Wikia is not accessible if you've made further modifications. Remove the custom ad blocker rule(s) and the page will load as expected.