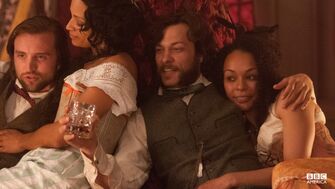 Bordellos, a.k.a. houses of ill-repute and brothels (among others), are places where men (mostly pirates) can indulge themselves in debauchery, dissolution and decadence of all forms in exchange for money. They are also, paradoxically, one of the few places in society where women can have an opinion of their own, and express it without judgement or retribution - unless the client is willing to pay a premium for that.
Ad blocker interference detected!
Wikia is a free-to-use site that makes money from advertising. We have a modified experience for viewers using ad blockers

Wikia is not accessible if you've made further modifications. Remove the custom ad blocker rule(s) and the page will load as expected.